Frequently Asked Questions - Design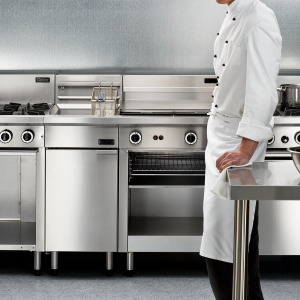 Designing and Planning a Commercial Kitchen
Commercial kitchens are the power houses of any catering enterprise and they are also dynamic, changing as the business changes. Sometimes this change may involve a complete redesign. 
Whether you are providing fast food catering or full restaurant facilities you need to ensure your kitchen is running at maximum efficiency. 
We get asked a lot of questions here at CaterPlan, so we've put together a helpful list of the most commonly asked queries we've had regarding commercial kitchen design here:
Commercial kitchens come in many different forms and varying shapes and sizes. Whether it is a Restaurant Kitchen, Pub Kitchen, Care Home Kitchen, School Kitchen, Hotel Kitchen or large Production Kitchen, they all have their differences and similarities. Apart from the obvious differences in size and catering equipment specification to suit the specific style of cooking or volume of catering, they should all adhere to certain standards and certain specifications that are regarded as being safe for food preparation and production. Some of the similarities and general specifications that should be considered as follows:
CE Approved Catering Equipment.
Stainless Steel prep benches, sinks and shelves. (304 Grade)
Separate food prep sinks; wash up sinks, and hand wash basins.
Separate prep areas for raw meat, poultry, and fish.
Suitable Kitchen Ventilation System.
Hygienic wall coverings such as Upvc white rock or stainless steel.
Non slip safety flooring such as Vinyl or Resin.
Pest control such as fly killers.
Grease trap or Bio enzyme unit for drain maintenance
Caterplan can advise on the suitability of specified catering equipment and help specify suitable catering equipment when required. We can find a solution that meets your requirements, saving you time scouring the market. We always recommend catering equipment that represents the best value for money whilst being suitable for its intended purpose, whether it is light duty, medium or heavy duty catering equipment. Call Caterplan now to help specify, design, supply and install your commercial kitchen. We offer every product and service for a full turn-key installation:
Specify Suitable Catering Equipment
Design
Supply
Installation
Turn-key
Obviously this is dependent on the size of the kitchen and the complexity and specification of the equipment within. If all of the services are in place and ready for the catering equipment to be connected, installation can take as little as 1-3 days for a small to medium sized restaurant kitchen and longer for larger catering facilities such as hotels and production kitchens. Complete turn-key commercial kitchen refurbishments where everything including all the mechanical and electrical services, ventilation, interior finishes and catering equipment are installed can take 3-6 weeks from start to completion depending on the complexity of the site and the scope of works. Detailed works programmes are issued with all turn-key commercial kitchen refurbishments showing every stage of the refurbishment and the completion date.Please see example below.
This question gets asked more frequently than any other and there is no easy or quick answer. The size of the commercial kitchen obviously has to be taken into consideration and the type of business operating from the commercial kitchen, with some commercial kitchens being quite basic, and others jam packed with expensive specialist catering equipment. To give an idea of the price range, we have supplied and installed some small functional commercial kitchens for under £20k, with others up to £150k in value, just for the equipment alone.
The duty and specification of the commercial catering equipment also has to be considered, with some busier kitchens requiring heavy duty equipment whilst others with less output, can manage with lighter duty equipment. It is important that this is evaluated correctly as cheaper lighter duty equipment may reduce the initial financial outlay, but if it isn't of adequate duty; it will soon need replacing and therefore be a false economy.
Many also forget about the infrastructure fit out costs particularly when starting a kitchen from scratch in an empty shell. The infrastructure costs can be as much or more than the equipment within the kitchen. Complete turn-key installations including infrastructure and catering equipment costs can range from around £30k to £250k and more depending on the size and type of commercial kitchen.
It is important to make sure that the budget you have set aside for the kitchen is realistic for the business it services. Insufficient investment can result in the business not realising its full potential or the intended projected revenue that makes the business viable. After all, the kitchen is the engine room for the business!
In summary here are the considerations that you will shape your commercial kitchen and the cost:
Type of business the kitchen services
Catering equipment requirements
Menu and output/turnover
Duty of the catering equipment
Infrastructure & Refurbishment Costs
Budget & Financing
Our advice and expertise can help you to get the commercial kitchen that is right for your business, at a price that suits your budget. With any large outlay finance options are available to help spread the cost and help you to get the most suitable kitchen for your business.
There are fundamentals synonymous with all well designed commercial kitchens regardless of the type of business. Whether it is a restaurant, hotel, care home or school kitchen, they should all be designed with careful spatial planning to maximise efficiency and create a suitable workflow. They should also be compliant, suitably equipped for the intended purpose of the commercial kitchen, and designed to create a safe working environment for the catering staff.
Regardless of the shape or size of the commercial kitchen, the design should embody the following key areas which are crucial to the operation of the commercial kitchen:
1. DELIVERIES
Wherever possible the kitchen should have a delivery entrance located next to the kitchen storage areas. This allows direct access for deliveries without interfering with the operation of the kitchen, impeding service, and means that deliveries need not pass through food preparation, cooking areas or any customer area.
If space permits, and particularly with larger catering facilities, it is necessary to have a designated landing area for the deliveries with sufficient work bench space specifically to book the deliveries. This also allows for efficient sorting of deliveries before being transported to the designated storage area. Scales may also be required to check the weight of certain produce, and trolleys to transport good to the storage area. Hand washing facilities are also good practice to prevent any possible cross contamination.
The delivery booking in or drop off point must have adequate space to ensure that deliveries do not cause obstructions and pose a risk to health & safety. For example, the delivery access point may also be a fire escape so it is imperative that isn't blocked when accepting deliveries.
The amount of deliveries and the frequency will depend on the type of establishment the commercial kitchen serves. Restaurants may prefer smaller daily deliveries of fresh produce and others may opt for bulk deliveries including frozen produce and dry goods. More frequent deliveries are more beneficial when storage space is at a premium and a quick turnaround of produce can be advantageous.
2. STORAGE
The amount of storage required will obviously depend on the size of the operation, and the frequency of deliveries, but generally the following will need to be considered:
The average commercial kitchen will require sufficient refrigeration to store fresh meat, poultry, fish, dairy products, fruit and vegetables. These items should be stored separately to avoid any possible cross contamination which could lead to a health risk. Freezers will also be required for frozen food storage.
Dry goods should be stored in cool, well ventilated areas away from heat sources and moisture. The dry goods should not be stored on the floor and should be on suitable racking or shelving. It is good practice to have a separate dry store room when space permits. Smaller premises without the luxury of space, may use stainless steel cupboards or shelving in a designated area of the kitchen for dry goods.
COSH cupboards are required to store cleaning chemicals as set out in the Control of Substances Hazardous to Health Regulations 2002. These cupboards need to be lockable are usually of painted steel construction or stainless steel.
3. FOOD PREPARATION
It is important to have a designated food preparation area within a commercial kitchen. To achieve the optimum flow and prevent contamination, the prep area is best placed between the storage area and the cooking area. This prevents the need to carry unprepared produce through the cooking area and avoid any potential contamination.
Food prep areas should incorporate basic fundamental equipment which would include adequate food prep surfaces, sinks, shelving, storage and refrigeration which should always be manufactured from stainless steel. Depending on the operation and purpose of the prep area, other specialist food preparation machinery may also be required, such as food processors, meat mincers, potato peeling and vegetable preparation machinery. You will also require separate refrigeration such as under-counter refrigerators. These refrigerators can be re-stocked daily with food that requires preparing, to avoid continuously going back and forth between prep and bulk storage areas. In brief you will need to consider:
Prep Surfaces
Food prep sinks
Suitable Utensils & food prep machinery
Utensil & Equipment Storage
Refrigeration
Hand washing facilities
Consideration should also be made to the type of food that is being prepared. It is very important to prevent cross contamination. This occurs when bacteria is spread, usually between work surfaces and is most likely to come about when raw food touches or drips onto ready to eat food or surfaces. Apart from being kept extremely clean at all times, to prevent contamination food prep areas should be segregated into different zones for the preparation of:
Pre-cooked and Prepared Food
Raw Meat
Poultry
Fish
Vegetables
Dairy Products
Segregation is difficult with smaller commercial kitchens where space is at a premium, and it may not be possible to have separate clearly defined food prep areas. When this is the case, it is imperative that stringent cleaning procedures are in place, and surfaces and utensils are thoroughly cleaned between differing food group preparation.
This segregation should also be considered when storing these different food types in refrigeration, which is another hot spot for possible contamination. Your local Environmental Health Officer may inspect your commercial kitchen without notice, and will check that adequate measures are in place to provide a compliant food preparation area. They can advise and make recommendations to ensure your commercial kitchen is compliant and safe.
4. COOKING AREA
The cooking area or cook line is the heart of the commercial kitchen and its location within the kitchen needs to be in keeping with the correct flow of the kitchen. The size of cooking area is dictated by the amount and type of cooking equipment required, which in turn is dictated by the menu and amount of covers the kitchen produces.
Type of cooking equipment
Cooking equipment will vary depending on the type of establishment. Most commercial kitchens and restaurants would require core appliances such six burner gas oven ranges, fryers, salamander grills and combination steam ovens. Larger operations that require bulk cooking may have appliances such as bratt pans and tilting kettles.
The positioning and layout of the cooking equipment is very important and key to the efficiency of the operation. For example, the chef may want to create two working areas within the cook line, one used predominantly for hot starters and the other for main courses.
It will also be necessary to place ambient infill benches between certain appliances. For example, it is good practice to place infill benches between fryers and oven ranges. This will prevent any spillages from pans boiling over into the fryer which could very dangerous. The infill bench only has to be 300mm wide but if there isn't enough space it may be necessary to fit a fryer guard instead. It is also good practice to place salamander rills over ambient benches. This acts a landing area and also protects the grill from heat sources below. Other ambient surfaces will be required for preparation and plating up.
Additional refrigeration may also be required in the cook line. These refrigerators would hold prepared food ready for cooking and enable the chef to work efficiently without leaving the cooking area. It might include under-broiler counter refrigerators for holding steaks or fish ready to place on the char grill or plancha. They may also require refrigeration for cold garnishes ready for plating up and adding finishing touches.
All cooking areas will require a suitably sized ventilation system installed in accordance with the applicable rules and regulations. When gas appliances are underneath the canopy it will also require a gas interlock system. The canopy should of stainless steel construction and be fitted with stainless steel baffle filters that can be easily removed and cleaned. Commercial kitchen ventilation systems should also have make up air coming into the kitchen to replace the air being extracted, which is a regulatory requirement where gas appliances are installed.
5. FOOD SERVICE PASS
This area of the kitchen is referred to as 'The Pass' and it is where the plated meals are placed when they are ready to be collected by the waiting staff. The pass should be situated between the cook line and the entrance to the dining area, so that waiting staff can efficiently collect serve the meals without entering other parts of the kitchen.
The food service pass would require equipment such as hot cupboards and heated gantries. The hot cupboards can be used to store crockery and keep warm ready for plating up. The work surface on top of the hot cupboard or additional work benches can be used for plating up. The plated meals can them be placed underneath the heat lamps on the heated gantry and kept warm until the waiting staff arrive to collect.
6. WASH UP AREA
The wash up area and dishwasher area should never be underestimated and should be suitably sized for establishment and covers produced by the kitchen. The wash up area should be located somewhere in the kitchen next to the entrance from the dining room, so that staff can efficiently drop off dirty crockery, without walking through other parts of the kitchen and interfering with productivity.
This area of the kitchen should be suitably equipped and have an efficient flow from where the dirty crockery is dropped off to where clean crockery, pots and pans can be collected ready for reusing. It would generally include the following areas within the wash up area:
Dirties drop off point
Dishwasher pre-rinse sink
Pot wash sink
Commercial dishwasher
Cleans table/exit table
Racking for clean crockery
Suitable refuse bins and waste management should also be considered. The local water authorities will also require you to install a grease trap and/or a bio enzyme dosing unit to prevent grease build and blockages in the drainage. Ventilation may also be required depending mainly of the type of dishwasher used.
Other considerations:
· Waste Management
· Grease traps & drain maintenance
· Ventilation
Call Caterplan now and speak to one our design consultants. Let us design, supply and install your commercial kitchen and help maximise your business potential.
Caterplan are predominantly a catering equipment supplier and work with a wide range of manufacturers from all over the world. We work with many of the largest and most well-known brands as well as some of the lesser known manufacturers, providing solutions for catering establishments of varying sizes, from small restaurants to huge scale production kitchens. Caterplan supply every item of commercial catering equipment you could possibly want or need, to successfully run your catering operation. These catering equipment requirements for commercial kitchens can be generally divided into the categories below:
Prime Cooking Equipment
Warewashing Equipment
Stainless Steel Fabrication (Tables, sinks, shelves etc.)
Food Preparation Equipment
General Refrigeration
Walk in Chillers & Freezers
What layout options are available when designing a commercial kitchen cooking suite?
Commercial kitchens come in all different shapes and sizes and the design is generally dictated by the available space. Whilst the main zones of the kitchen such as preparation areas, storage, dishwasher area, hot pass and cooking areas need to be situated to create efficient workflow and, there are some other considerations.
Should your commercial cooking equipment be against a wall or as an island style suite in the middle of the kitchen?
ISLAND STYLE COOKING SUITE
Although, it can be a single line of cooking equipment generally this layout would mean two separate rows of cooking equipment situated back to back to form an island. This option requires sufficient space and is only viable with larger suitably sized commercial kitchens. The kitchen space would require a suitable depth to allow sufficient work space in front of both sides of cooking equipment, and therefore wouldn't be possible in narrow kitchens or galley style kitchens.
The advantage of the island style cooking suite is that two zones can be created whilst the chefs can still benefit from good communication whilst facing each other across the suite. The cooking suite can also be positioned adjacent to a preparation area that is easily accessed from both sides of the cooking suite.
Improved Chef Communication
Create Separate Cooking Zones
Centralised Location within the kitchen
This style of cooking arrangement will require an island ventilation canopy and a central services spine, usually with a services riser to enable the dropping of services such as gas, electric and water from above and distributed through the spine to the relevant appliances.
Questions that you should ask yourself when considering an island style cooking suite are:
Do you have sufficient space?
Can you get ventilation duct to the center of the kitchen?
Can you get the required services such as gas, electric, water and waste to the center of the island
Will an Island style configuration help or hinder the kitchen workflow?
WALL STYLE COOKING SUITE
Another option for cooking equipment and possibly the most common is to have a wall type configuration where all of the equipment lines up against a wall. This maybe the only option available where the kitchen is smaller, or if it is long and narrow like a galley style kitchen.
The advantages of this layout are that it is usually easier to get services such as gas, drainage, water & electrics to the appliances. Wall type canopies are also more cost effective and generally cost less than island style installations.
Easier to get services to appliances
Generally more cost effective
Suits most sized kitchens
PENINSULAR STYLE COOKING SUITE
Peninsular style cooking suites are where the suite extends out into the kitchen with one end of the suite against a wall. In essence it is very much like an island suite where cooking equipment can be fitted back to back, however unlike an island suite you cannot walk the entire way around the suite.
This type of cooking configuration boasts many of the advantages of an island cooking equipment layout, and can be created where the kitchen is not quite large enough for an Island style layout. The only drawback is that you cannot walk the entire way around and therefore if the kitchen design is not carefully considered; it can leave parts of the kitchen isolated and not easily accessible to all of the operators.
Many of the advantages of an Island suite
Easier to get services to than an Island suite
Can leave parts of the kitchen difficult to access
More costly than a wall suite
There are many guidelines and regulations that should be adhered to, both when installing a commercial kitchen and operating a commercial kitchen.
Gas Safe
Installations of commercial kitchens are required to meet specific standards and compliance. For example, all gas installations within a commercial kitchen should be completed by a qualified engineer who is on the Gas Safe register, and suitably qualified for commercial kitchen installations rather than domestic.
WRAS
Other regulations such as WRAS dictate elements of the installation that safe guard against the contamination of cold water supply with backflow prevention. Appliances such as commercial dishwashers should be WRAS approved with built in type 'A' air gaps preventing the backflow of water and contamination. Other ancillary items such as taps and pre-rinse guns should also be WRAS approved and abide by local authority water bylaws.
Environmental Health
Operators of commercial kitchens are expected to operate within a suitable environment and satisfy local authority environmental health inspections. Failure to satisfy such inspections can result in the business or premises being issued with a notice and could ultimately lead to closure unless standards are raised.
The Food Standards Agency
Commercial kitchens operators should also work to guidelines set out by the FSA (Food Standards Agency), who have a statutory objective to protect public health and consumers. The Food Standards Act 1999 gives the FSA the necessary powers to act in the consumer's interest at any stage in food production or the supply chain. All businesses with commercial kitchens should read The Food Safety Act 1990 which is a guide for food businesses. The FSA also regulates in partnership with other local authorities, The Food Hygiene Rating Scheme which helps consumers to choose where to eat and shop and gives them information on the hygiene standards of each takeaway, restaurant or shop.
Read the guide for businesses below
The Food Safety Act 1990: A Guide for Food Businesses
Ventilation guidelines & regulations
One area that the HSE helps to regulate is Ventilation of commercial kitchens in catering environments. These guidelines set out by the HSE address the importance of installing an adequate commercial ventilation system, setting out objectives and offering consideration to design and performance. Heating and Ventilation Contractors Association also created guidelines DW172 which is a specification for kitchen ventilation systems and goes into great detail covering specific requirements relating to design and specification that should be considered.
Please see links below
Specification for Kitchen Ventilation Systems
HSE Information Sheet
Commercial kitchen ventilation systems are a crucial part any commercial kitchen and ensure a safe working environment for the staff. All ventilation systems have to be designed and installed to adhere to current regulations and legislation ensuring that the very latest safety standards are satisfied. As part of a turn-key commercial kitchen solution or refurbishment, Caterplan can design and install your commercial kitchen ventilation system. Caterplan manufacture and supply all types of ventilation canopy. All of our canopies are custom made so they can be manufactured and adapted to suit very specific requirements.
There are different types of canopies that we can provide such as:
Wall Canopies
Wall canopies are standard wall mounted ventilation canopies that are mounted on a perimeter wall within the kitchen. This style of canopy is probably the most popular particularly within smaller to medium sized catering facilities. The advantage being that if they are positioned on an exterior wall, it may be possible to take the duct straight out the rear of the canopy to the outside.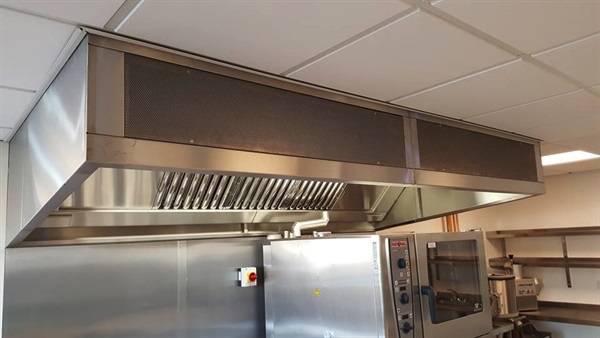 Island Canopies
Island style canopies that are situated within the kitchen are not attached to any walls and quite often have 'back to back' filter banks, enabling a bank of cooking appliances on either side of the canopy, This style of canopy are usually found in larger restaurant kitchens and catering facilities such as production kitchens.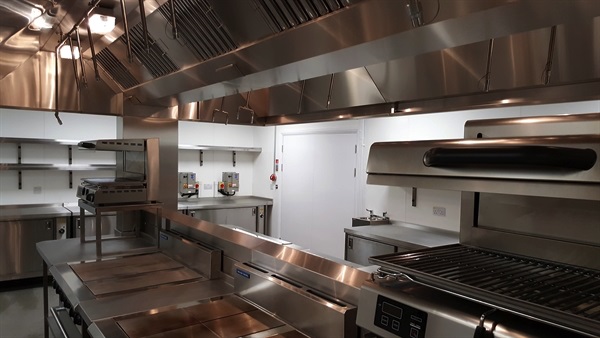 Extract Canopies
Extract canopies can be either wall mounted or Island style and would be connected to an extraction system. The extraction system would be suitably designed with the correct sized ductwork and fan to remove all of the cooking fumes and smells from the kitchen. The canopy would also need to be designed to have sufficient over-hand of all appliances to work affectively. There are specific regulations relating to this, particularly when using gas appliances.
Extract & Supply Canopies
As well as a suitable extraction system, this style of canopy would also be connected to a fresh air supply system. The extract system obviously extracts air from within the kitchen, so the supply air system would bring fresh air into the kitchen to help replenish the air taken out. Whilst the extraction system is connected to a filter bank with removable baffle filters, the supply air would be connected to a separate plenum situated at the front of the canopy. The supply air would be distributed into the kitchen from this plenum through either a perforated stainless steel panel or directional diffuser grille. It is a regulation that you must have suitable supply air coming into the kitchen particularly when you have gas cooking appliances. Design criteria can be found in the HVCA Specification DW/172 for Kitchen Ventilation Systems.
The type of commercial kitchen ventilation required for your kitchen, very much depends on the type and amount of catering equipment required. Space often dictates the amount or style of cooking equipment used, and this will also dictate the size of ventilation canopy required. Other factors to consider when designing a commercial kitchen ventilation system are whether your designed system will become a nuisance to neighbors and affect the surrounding environment. It is advisable to adhere to local council and DEFRA guidelines to make sure that your ventilation system is compliant. This can be particularly challenging in highly built up areas with a high density of residential dwellings within close proximity. Where you are in such built up areas, it is important to make sure the ventilation extract termination point is at high level, usually 1.5m above the gutter line of the top floor. This will help prevent extract fumes from entering windows. It may also be necessary to incorporate additional odor control within the ventilation system to prevent nuisance smells in the surrounding environment. This is usually necessary with takeaways and restaurants who produce ethnic cooking or fast food where lots of frying takes place. Odor control measures include carbon block filters, electrostatic precipitators or ozone systems. These additional measures can add considerable expense to the cost of the system. Suitable sound attenuating silencers can also be fitted to system to help reduce the level of noise emitting from the fans. This is especially important when the installation is in residential areas. Useful design criteria can be found on www.gov.uk from the Department for Environment, Food & Rural Affairs.Remember to consider:
Ductwork termination point
Sound Attenuation Measures
Odor control measures
Local Authority Compliance
DEFRA Compliance
DW172 Guideline Design Criteria
Gas Safe Regulations
Call Caterplan now and let us take care of your commercial kitchen ventilation needs.