Hotel Kitchen Design Specialists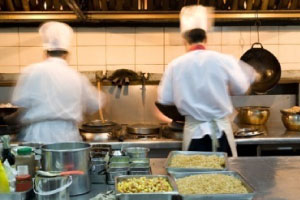 Whether your establishment is a small cosy guest house, resort hotel or large function based hotel, the quality of the food you offer is crucial to your success and reputation. So, whether you require a relatively small yet functional professional kitchen, larger commercial kitchen to cater for haute cuisine or banqueting on a huge scale, Caterplan can work with you to develop the ideal commercial kitchen design that will prove to be the perfect solution for years to come.
Hotel kitchens have to be equipped with a suitable range of commercial catering equipment capable of producing varying styles of cuisine. Your hotel kitchen will in no doubt have to cope with not only your 24 hour room service delivering appetising snacks and light bites, but also an 'A la Carte' restaurant serving mouth-watering cuisine to discerning diners and have the functionality and versatility to cope with larger functions and banqueting events such as weddings and business conferences.
Caterplan have particular expertise in complete hotel kitchen refurbishments, however, we are also happy to assist with improvements on a smaller scale. Maybe you are looking to upgrade, replace certain items of catering equipment or want additional items of commercial cooking equipment to help improve your efficiency and help to develop a more diverse menu. We are also happy to assist if you want to revitalise your existing hotel kitchen by re-designing the layout to improve the flow of the kitchen, replace some of the commercial catering equipment whilst keeping the items that are still serving you well.
Caterplan work with most of the major catering equipment manufacturers and will only use suppliers who provide excellent quality, reliable and robust, commercial catering equipment and have the same high level of customer service that we aim to provide to our customers. We are always happy to source and supply specific brands that you want to work with, or we can advise on what equipment we believe is the best value and most suitable for your type of operation. Reliability and durability of the equipment is key to the on-going success of any hotel.
We are confident that aided with our many years of experience in serving the hospitality can help improve your hotel kitchen efficiency. By discussing your aspirations, budget and menus, Caterplan will work with you to help achieve your optimum hotel kitchen solution.