Places of Worship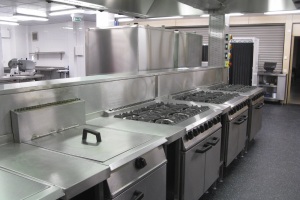 Caterplan have undertaken the design & installation of many commercial kitchens within this sector, ranging from Church Hall Community kitchens to other places of worship such as Monasteries and Convents.
The specification and design of these kitchens can vary depending on their primary function.  Church hall kitchens can often be used as 'Soup Kitchens' offering hot food to homeless and vulnerable people within the local community, and often doubling up as a food bank. They tend to be multi-use kitchens with similarities to community hall kitchens and require the flexibility to cater for other functions such as Weddings, Christenings, and other religious celebrations.
Monastery or Convent kitchens differ from Church Halls, with the primary function being to cater for the residents, with around the clock, seven day a week use, more similar to a care facility kitchen than church hall kitchen.
Caterplan offer a consultancy service, working with you to determine what specification of kitchen best suits your facility, ensuring that the most suitable equipment is specified for your requirements, and more importantly, the needs of those it serves.
Please call Caterplan now to find out more about the services we offer our client.