School Kitchen Design & College Kitchen Design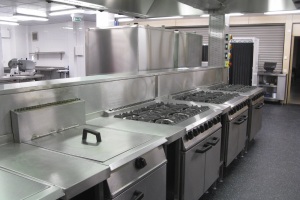 Caterplan have experience in working with various types of schools and colleges, both privately owned and state run. We understand the different requirements between larger adult occupied further education establishments and schools with smaller mouths to feed and the impact this has on the industrial kitchen or canteen specification.
Caterplan work with most of the major catering equipment manufactures and will only use suppliers who provide excellent quality, reliable and robust, commercial catering equipment and have the same high level of customer service that we aim to provide to our customers. Reliability and durability of the equipment is key to a smooth and successful operation.
As part of the complete refurbishment package we are able to offer not only quality branded commercial catering equipment but other products and services such as bespoke stainless steel fabrication, bespoke canteen foodservice serveries and extraction/ventilation systems. We are also able to fit Altro hygienic solutions such as white rock wall cladding and vinyl or resin flooring solutions to ensure that you are fully compliant with environmental health codes of practice.
Caterplan can work directly with the school or college governors and catering staff to help deliver a school kitchen design perfect for your requirements, or if you prefer we can work with your designated building survey. All of our projects are fully project managed and with a single point of contact which ensures better communication and ultimately a smoother project implementation.