Frequently Asked Questions - Equipment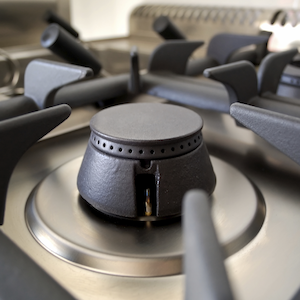 Induction or Gas Cooking
For many years now gas has been the preferred choice for most commercial kitchen cooking appliances, and in particularly for hobs and oven ranges. The six burner gas oven range has been, and still is central to most commercial kitchens, and gas generally provides the professional with the required performance and quick heat up times.  Gas is also cheaper to run than traditional electric oven ranges, so for most commercial kitchens, the benefits of gas cooking far outweighs electric, but does the same apply to Induction?
Induction hobs have many benefits over traditional commercial gas ranges. They are considerably quicker to heat up and can boil a pan of water almost twice as quickly as gas.
They are also incredibly energy efficient and transfer around 90% of the energy used directly to the pan, compared to around 50% when compared to gas hobs.
Another benefit is that they are far easier to clean than gas ranges, with no awkward places for food debris to hide. The glass surface offers a smooth surface that wipes spotlessly clean in seconds, saving valuable labour time.
Other benefits include helping to maintain a cooler kitchen with practically no energy wastage and heat transfer into the kitchen environment, particularly in larger commercial kitchens with multiple hobs and other commercial cooking equipment.
Quicker heat up times for increased productivity
Superior energy efficiency saving on energy bills
Easy to clean saving labour time
Helping to create a cooler kitchen environment
One of the main disadvantages of Induction hobs and ranges is the initial cost when compared to standard electric or gas. Induction ranges can cost more than double that of a standard gas range, which for most operators can be the main reason for choosing gas. This can be short sighted when you consider the ongoing benefits and energy savings from choosing induction.
When switching to Induction you will also need to check if your pots and pans are compatible. As long as they contain ferrous metal then they should work, simply check by seeing if a magnet sticks to the bottom of them. This is possibly another disadvantage if all of your cookware had to be replaced when considering Induction.
Although induction is certainly becoming more popular, many old school traditionally trained chefs still prefer gas. Particularly with open plan kitchens on view to customers, there is still a desire for showmanship and theatre which is more difficult to achieve with induction and the lack of naked flames.
Another disadvantage of Induction tops is durability. Whist commercial versions are typically 6mm thick and very robust, they are not indestructible and are never going to be as robust as a heavy duty gas range with cast iron burners and pan supports. Any damage inflicted on the Induction top can prove very costly to repair, where as a cracked pan support on a gas range can easily be changed for very little cost in comparison, however unlikely it is to occur.
Initial cost can be prohibitive compared to gas appliances
Additional financial outlay for new cookware may be required
Not as theatrical as open flame cooking
Not as durable as heavy duty cast iron gas burners
On the surface, Induction hobs are made from toughened glass that is generally around 6mm thick for commercial hobs which are heavier duty than the domestic ones available. Inside the hob is a copper wire coil which electric current passes through, causing a magnetic field which induces an electric current in the cooking pan/pot, causing it to heat up. The cooking pan or pot must be made from or contain ferrous metals making it magnetic, otherwise they will not heat up.
Speak to Caterplan today to see how you can benefit from introducing induction into your commercial kitchen.  We have a wide range of induction hobs, ranges and suites to suit all budgets.  Alternatively if you have decided that gas is more suitable for your requirements we will be happy to assist you.  
Call now on 0845 6436835 and speak to our sales team.