Commercial kitchen ventilation systems are a crucial part any commercial kitchen and ensure a safe working environment for the staff. All ventilation systems have to be designed and installed to adhere to current regulations and legislation ensuring that the very latest safety standards are satisfied. As part of a turn-key commercial kitchen solution or refurbishment, Caterplan can design and install your commercial kitchen ventilation system. Caterplan manufacture and supply all types of ventilation canopy. All of our canopies are custom made so they can be manufactured and adapted to suit very specific requirements.
There are different types of canopies that we can provide such as:
Wall Canopies
Wall canopies are standard wall mounted ventilation canopies that are mounted on a perimeter wall within the kitchen. This style of canopy is probably the most popular particularly within smaller to medium sized catering facilities. The advantage being that if they are positioned on an exterior wall, it may be possible to take the duct straight out the rear of the canopy to the outside.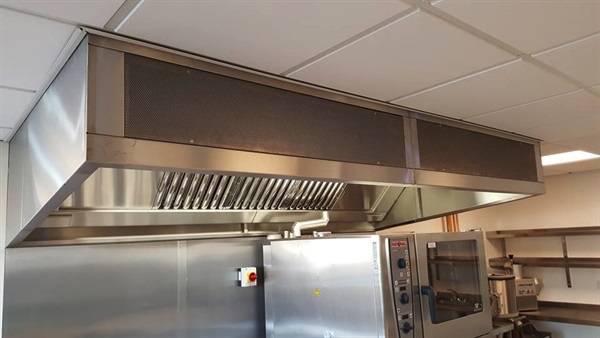 Island Canopies
Island style canopies that are situated within the kitchen are not attached to any walls and quite often have 'back to back' filter banks, enabling a bank of cooking appliances on either side of the canopy, This style of canopy are usually found in larger restaurant kitchens and catering facilities such as production kitchens.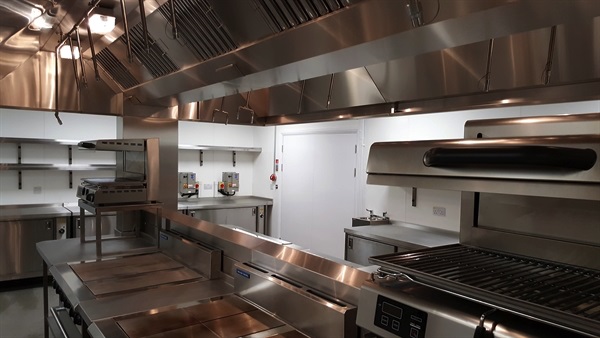 Extract Canopies
Extract canopies can be either wall mounted or Island style and would be connected to an extraction system. The extraction system would be suitably designed with the correct sized ductwork and fan to remove all of the cooking fumes and smells from the kitchen. The canopy would also need to be designed to have sufficient over-hand of all appliances to work affectively. There are specific regulations relating to this, particularly when using gas appliances.
Extract & Supply Canopies
As well as a suitable extraction system, this style of canopy would also be connected to a fresh air supply system. The extract system obviously extracts air from within the kitchen, so the supply air system would bring fresh air into the kitchen to help replenish the air taken out. Whilst the extraction system is connected to a filter bank with removable baffle filters, the supply air would be connected to a separate plenum situated at the front of the canopy. The supply air would be distributed into the kitchen from this plenum through either a perforated stainless steel panel or directional diffuser grille. It is a regulation that you must have suitable supply air coming into the kitchen particularly when you have gas cooking appliances. Design criteria can be found in the HVCA Specification DW/172 for Kitchen Ventilation Systems.